Superb Chiropractic Care
With A Personal Touch
Chiropractor Lynnwood WA
Welcome to Osborne Chiropractic and Massage located in Lynnwood, WA. At Osborne Chiropractic, we pride ourselves on following the best and most up to date research available. We understand that there is not one fix for every back problem, and so there should be a different treatment program for every patient. We utilize our expertise in doing a thorough history, comprehensive orthopedic and neurological examination, spinal x-rays, and functional evaluation to determine the best program for your condition. You can rest assured that our Lynnwood chiropractor will explain what is causing your pain and will give you options to fix the problem.
What Makes Us Different
What sets us apart is that we strive for long term solutions to people's everyday problems. Dr. Swanson is a strong believer in working with you to fix what can be fixed and giving you tools to manage your conditions for the rest of your life. We want you get the quick pain relief that most people are looking for and more!
I became a Chiropractor in Lynnwood because I saw a wonderful opportunity to uproot my family from the Midwest and thrive in the beautiful North Seattle region. I get to own and work in the best Chiropractic clinic in Lynnwood providing thorough and well researched care. Being part of the Lynnwood community is incredibly important to me and I look forward to becoming your Chiropractor to help you live your life better.

- Dr. Alex Swanson
Common Conditions We Help
Common conditions that we see great success with treating are motor vehicle accident injuries, work injuries, headaches, neck pain, middle back pain, low back pain, knee pain, ankle pain, shoulder pain, elbow pain, wrist pain, and general burning, achiness, numbness, and/or tingling.
Common Misconceptions About Chiropractic
My friend went to a Chiropractor and now says that they have to go for the rest of their life.
Most people enjoy getting care after their scheduled plan is complete. We do not 'force' anyone to continue to come in. Once your body knows what if feels like to be in good health you will know if, and when, you need to come back. Some people prefer monthly maintenance care. Others like to drop in when they feel symptoms from doing too much.
I have been told by my other Doctors that I will have to live with this pain.
This one is difficult because it can vary a large degree depending on the condition and if there are underlying complications. There have been a lot of patients that come in with that mindset and are pleasantly surprised how they improve. Dr Swanson is not afraid of referring out to other providers either. Great minds think alike, and the more eyes on your case, the better your chances of changing your problem from "live with it" to something much better.
Chiropractors are not real doctors.
Chiropractic education is on par with MD and other Doctors' education. The curriculums in general have the same number of classroom education hours. Chiropractic education is more in depth on the nervous system, musculoskeletal system, physiology, and techniques for delivering care. General practitioners' education tends to be more in depth on pharmacology, general surgery, and Immunology. The biggest difference is the residency MD students must go through at a hospital after they receive their MD or DO.
A CHIROPRACTIC TEAM YOU CAN TRUST
When you are ready to come in please call or email us to schedule your first exam. Our team is more than ready to welcome you in and start the process of getting your health where you want it to be!
HOW TO FIND A CHIROPRACTOR IN Lynnwood
This guide will help you find the best chiropractic clinic in Lynnwood for you. When most people in Lynnwood decide they need a chiropractor, they end up doing a search and just picking someone at the top.
Being at the top of Google for the chiropractic search does not necessarily mean they are the best chiropractor for you. Follow the steps below to make sure you are picking the right chiropractor for you.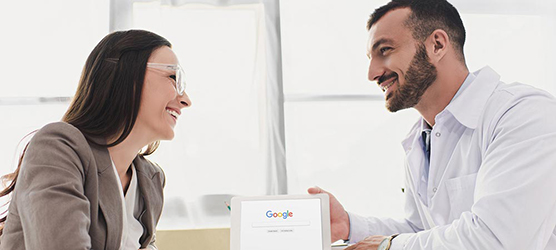 Time Needed: 5 minutes
Total Cost: USD 0.00
4 EASY STEPS TO FINDING A CHIROPRACTOR IN Lynnwood
Step 1: Open up a Google search
You will want to type one of the following in the search bar:
Chiropractor Lynnwood
Chiropractor 98037
Chiropractor near me
Best chiropractor in Lynnwood

Step 2: Review Their Website
The best chiropractors in Lynnwood put as much care into their website as they do into the rest of their office. By reviewing their website you will get a good feel for the doctor and if they are right for you.

Step 3: Check Out Their Reviews
Check out the Google Business Page of a chiropractic clinic you are thinking about visiting. It is easy for someone to say they are great, it's a different story to get other people to say great things about you.

Step 4: Give The Office A Call
Now that you have a basic understanding of what the office is about. Give them a call to make sure they fit the message that their website and GMB have been sending. You will know in a few minutes whether the office is the right one for you.